2021: 37th Worklog Summary for Cardigan Highlanders Volunteer Trail Crew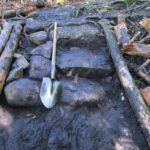 "Volunteers don't get paid,… they're priceless." -F. Magnette
Seventeen volunteers turned out; 8 had and 2 earned their tartans. The 508 hrs on trails is 106% of the average of the last 5 years pre-covid: 476 hr. Admin hr is 146, outreach is 40 hr. Total CHVTC: 694 hr. Camp Coniston teen crew adds 112 hr, so total time is 806 hr.
We volunteers may be priceless, but not worthless: DNCR 2020 report values our work @$26.58/h, our 806 hr is worth $23,019.
We patrolled 17 miles, cleaned 231 drains in 74 hr this Fall, set 31 rock steps/pavers (rs), built 4 rock waterbars (rwb). Side ditches are incidental to drains. Scree and barricade are incidental to building fixtures.
On Mt. Cardigan State Forest: 23 blowdowns CHVTC: 231 hr
West Ridge Trail, 60 drains: 3 rs, 2 rwb, 2 pvr, r&r wood step 139 hr
South Ridge Trail, 15 drains: rwb, 2 rs; Ranger Cabin Trail 34 hr
Mowglis Trail: 32 hr
Skyland Trail: 26 hr
On Mt. Sunapee State Park: 14 blowdowns. CHVTC: 142 hr
Newbury Trail, 24 drains: w. end brush (Coniston 112 hr) 26 hr
Rim Trail, 24 drains: 5 hr
Andrew Brook Trail, 48 drains: 4 rwb. 111 hr
On Mt. Kearsarge State Forest CHVTC: 102 hr
Rollins Trail, ~20 drains, 5 rs in talus. 25 hr
Winslow Trail, 40 drains: 12 rs in stairs 77 hr
For NH F&G, Cole Pond Trail, Bog Rd., Enfield NH: 3 blowdowns CHVTC: 33 hr
24 drains, 6 pavers, blaze YELLOW.
Outreach hr: Mink Bk 6; MSGTC 11; Barlow & Winslow Trs 8;
Summit tr 4; Solitude Tr 2; Croo Bridge 2; Moose Mtn 4;
Manning/Allieway/Holt trs 3 CHVTC: 40 hr
Admin hr: UVTA 2; MSAC 2; Mt Sun Resort 1; web minion @ 8 hr/month 96; Chainsaw cert. 2 vols 14; emails 11; 2021 log 6;
cruise Andrew Brook tapline 4; "Bridges by CHVTC 1986-2020" 4; DNCR 1; tools 5. CHVTC admin total: 146 hr
CHVTC Grand Total: 694 hr
CHVTC volunteers were working for the crew and their mission at some time on at least 75 days this year. They carried on through drought, heat, smoke, humidity, downpours, that blarsted covid plague, and who knows what else. I must remark that part of working smarter not harder is to go out when conditions are as good as they are going to get, but still… Their devotion is truly outstanding, very much like that of other volunteers in so many lines of work who serve to make our lives better. It is a privilege to know them, and I am grateful to them all. Moran taing, mo caraid.
Respectfully Submitted, Craig Sanborn, CHVTC Trailmaster