8/4/22 Trailwork Update: Making Do in the Dog Days of Summer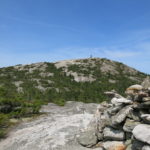 Let's see here... We had no interest in travelling to Monadnock Trails Week 7/22-26, due at least in part to temps in the 90s F.
I therefore blazed West Ridge Trail in ORANGE below the cascade on 7/23.
I rode the chairlift up Mt Sunapee on 7/24, and scouted Lake Solitude Trail for work for a YMCA teen crew on 8/4, but their other service jobs and the chairlift and the NH Craftsmen's Fair there starting 8/5 did not mesh... more later.
More thunderstorms on Mon 7/25. From then through Tue 8/2 I have been trucking demolished lumber, fetching tools and supplies, renting and returning tools for unplanned jobs.
Wed 8/3 we hosted that same YMCA teen crew on the West Ridge Trail, twelve 16 YOs and three adults. One team toted 2x6 x2' RS hemlock deckboards to the 1986 bog relocation, where we will replace old ones this year. The team then painted ORANGE blazes uphill, out Ranger Cabin Trail, then back to that junction and uphill to the summit, painting blaze boards as well. The paint ran out at the summit. They then descended via Clark Trail and South Ridge Trail, brushing them so that chore is now done until about 2026. They were guided by an agile and active volunteer; as this is his third day volunteering with us, I had the pleasure of awarding his tartan, and he is now a Cardigan Highlander. The entire crew applauded and shook our hands.
Meantime, the other two teams hiked up 0.7 mi. to where a fir tree wanted to be cut to length to replace old wood steps. They measured the existing steps, sawed the log with hand tools, moved the lengths to the trail, and set new wood and used the old as barricade. Two new steps and another staged for some other site.
Due to an hour's drive each way from their base camp, they worked six hours.
The weather continues hot and humid. There is a heat advisory on for today. Thunderstorms start Friday afternoon, and continue through Tuesday. The construction work still needs my truck and my time. For all these reasons, crew days for us must be postponed until better conditions. Thank you for understanding.
Yours,
Craig Sanborn, CHVTC Trailmaster