20 Aug 2022: R&R more woodwork on West Ridge Trail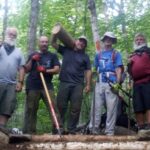 The format of 13-14 Aug worked well enough that we tried it again: signups determine which day we turn out, so the crew replied all to choose what works best.
Because the drains are cleaned, the brush trimmed, and the trails blazed (see 8/4/22 Trailwork Update), we can move on to level 2 building tasks.
One job is to remove and replace old woodwork that is worn or broken on West Ridge Trail . We got a good start with two different crews from YMCA camps on 7/15 and 8/3. Between them they replaced 7 fixtures with 60' of fir logs harvested from blowdowns by one of our sawyers. We can continue that downhill of where they left off, using hand tools if we have no sawyer. The trees can be fairly small in diameter but will still work for about 12 years. There are several old fixtures needing replacement near the junction West Ridge and South Ridge trails.
On 20 Aug we continued that job. The crew hiked to the site by 1000. Old woodwork they measured and noted which needed replacement. Our sawyer felled a few fir trees. They limbed and peeled fir bark then dragged the cut logs to the trail by 5' loops of nylon webbing. They also brought two logs from the last YMCA crew's work downhill. By lunchtime there were 7 logs there at trailside. BTW, as the bark now peels with difficulty due to the drought and August, there is no more such work planned this season.
After lunch they dragged several downhill to where each was intended to be set. It is fairly fast work to pry an old log from the trail and use it as barricade beside the trail, then to carve the trench where it sat to hold the new one, then to re-set the pin rocks on each end to hold it in place despite frost and hikers. In two hours at this task the crew of 5 set two waterbars and three steps, totaling 46' of new wood. Four logs totaling 35' were staged at trailside, ready for the next crew to use.
We called it a day while the crew was still alert, drank more water and electrolytes, and hiked the half mile down to the trailhead. There one volunteer was awarded his tartan for three days' work on this crew; he is now a Cardigan Highlander. As all others then there already had theirs, each was given an A.T. Fieldbook, guidelines for trailwork adopted by this crew decades ago. This crew showed excellent teamwork and work ethic, and that is a huge goal for this crew.
Next weekend, we are likely to return to Mt. Kearsarge before we take Labor Day weekend off. Here's to cool mountain weather! Also, we sometimes turn out as a small crew by appointment on weekdays, please write if interested.
Gratefully,
Craig Sanborn, CHVTC Trailmaster