2022:  38th Worklog Summary for Cardigan Highlanders Volunteer Trail Crew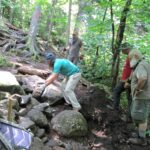 Seventeen volunteers turned out: 10 had and 6 earned their tartans. The 812 hrs on trails is 158% of the average
of the last 5 years pre-covid: 476 hrs. That 812 hrs includes 3 days from 2 YMCA teen crews on service trips: 300 hrs.
Our admin hrs = 158, outreach hrs = 59, so total time = 1029 hrs. DNCR values our work @ $30.75/hr, or $31,641.75.
We patrolled 17 miles, cleaned 231 drains in Spring and raked them in Fall; set 12 paver stones and 2 more blaze boards, blazed 5.4 miles, dug 70 yards of new ditch, R&R (remove & replace) 18 log steps/waterbars: 140' in 280 hrs, pre-cut and assembled another 8' bog bridge like the 7 bridges already on that site.
On Mt. Cardigan State Forest: 2 blowdowns
West Ridge Trail, 60 drains. R&R 18 log steps/waterbars, 3 pavers, a 4-rock waterbar, blaze ORANGE. 323 hr
South Ridge Trail, 15 drains. Trim. 20 hr
Ranger Cabin Trail, blaze ORANGE, trim. 6 hr
Skyland Trail, trim Rimrock – Mt Gilman/Orange Mtn. 42 hr
Mowglis Trail, to south of Hanging Rock, trim. Move jct. Elwell Trail. 22 hr
Total 413 hr
On Mt. Sunapee State Park
Andrew Brook Trail, 46 drains. Trim, blaze BLUE. 154 hr
Newbury Trail, 24 drains. 4 hr
Rim Trail, 24 drains. 4 hr
Lake Solitude Trail, Fix signs Jack & June Jct., barricade 3 herd paths, blaze WHITE, 2 rock steps. 60 hr
Total 222 hr
On Mt. Kearsarge (Rollins S.P., Winslow S.P.)
Winslow Trail, 30 drains. Two more blaze boards, blaze RED, trim, 5 rock steps/pavers. 97 hr
Rollins Trail, 20 drains. Seventy-yard ditch, 2 pavers, blaze WHITE. 57 hr
Total 154 hr
On Cole Pond Trail, Bog Rd., Enfield NH for NH F&G, 24 drains, 5 pavers, 8' bog bridge. Trim. Total 23 hr
Outreach hr: Proctor Academy 13, Wheelock trail cruise 2, rail trail drains 3, SRKGC meeting 1, MSGTC 10, Upper Nature Trail 13, Summit Trail 3, Butterfield Pond Trail drains 1, Franconia Ridge Working Group 5. Total 59 hr
Admin hr: DNCR 4, certificates by Wes 4, CHVTC annual mtg 18, MSAC 2, UVTA turnpike plans 1, "Links to NH RSAs"
to adopters at east Cardigan 2, American Trails webinar by Wes 2, Waterman Fund biennial Alpine Stewards @ 05826
10, webwrights @ 8 hr/month = 96. Total 158 hr
We welcomed several new and enthusiastic workers. We kept up with level 1 tending, especially cleaning drains and trimming back branches. We built or replaced many fixtures, to try to slow erosion. We hosted three teen crews from two YMCA camps; they focus on one task per day and learn to do it well. That is greatly helped by several of us able and willing to serve as team leaders. We thanked everyone. We provided training, tools, praise, and energy bars from Strathspey, in Badenoch, Scotland.
There is power in "We…" This crew is a full-service one, we tend trail and build fixtures. We are enthusiastic
volunteers, seeking new jobs and new people to turn out and join us in the fun. I thank you all.
Uile taing a Dia, agus slainte a duibh uile gu leor.
Respectfully Submitted,
Craig Sanborn, CHVTC . Trailmaster