9/21: Barlow Trail, Blaze for Winter at Treeline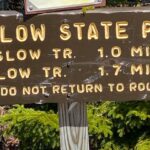 Barlow Trail climbs Mt. Kearsarge from Winslow State Park 1115' in 1.6 miles. It was laid out by Don Davis of NH State Parks, and built by Trailwrights Inc. in 1997. The trail ascends easterly before it bends southerly to climb more moderate grades on the north ridge of the mountain. 0.2 miles before it joins Winslow Trail just below the summit, it climbs up and out of the forest and crosses wider open ledges among clumps of small spruce. It winds around somewhat, seeking open ledges for good walking. Until now, the only blazes on this bit were painted on the ledges, with no blazes on trees.
Finding the trail in winter has always been a real challenge. For better hiker safety, we asked the Sate Parks Volunteer Program Manager if we could add winter blazing to this trail at treeline. In early August, they replied "Yes." Our schedules and good enough weather coincided last Thursday September 21. Two of us drove up the auto road from Rollins State Park. By 1130 we were trimming branches and nailing pre-painted 1"x4"x1' blaze boards so they may be seen by approaching hikers on snow. We prepped trees and nailed blaze boards till we got down to where the woods begin. Then we opened the can of paint, poured it into cups, and painted our way back to the Winslow junction. We painted all the old blazes on ledge, six blaze boards, and about two dozen tree trunks that were close enough to the trail and big enough to take a blaze. Two crew @ 6 hours.
The present trail does look over-blazed, but... imagine it when snow covers the ground, and you'll see why these new blazes were needed.
Craig Sanborn, CHVTC
Trailmaster