10/8/22 Lake Solitude Trail, Mt. Sunapee: Autumn on the Mountain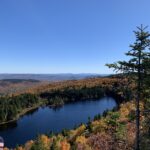 This foliage season is easily the most spectacular one hereabouts in many years. After a drought, there was enough rain in September to let the hardwoods really blaze with color against the constant of dark green spruce, fir and hemlock. Swamp maples in bright scarlet, sugar maples in yellow or orange, beeches in a lighter yellow... It was in this world of kaleidoscopic colors, warm sun in a clear sky, and hordes of tourists that seven of us rode the chairlift to the summit of Mt Sunapee at 1000 Saturday morning.
We lugged enough tools to be ready for any job we found on the trail from White Ledges down to Jack & June Jct, about 0.2 miles. That bottleneck sees heavy traffic, and it was many years since any crew had done more than keep it brushed and blazed. We had 3 bars @ 10 lbs, 2 shovels, 3 loppers, 2 picks @ 2.5 lbs, 5' loops of 1" webbing, folding saws... One tourist asked why a group was carrying all that. The crew told them we were a volunteer trail crew, but then another one cracked this line: "Actually, we're just kleptomaniacs whose last stop was a hardware store."
Another of us joined the procession where the trail leaves the summit access road, and we were surprised to meet yet another atop the White Ledges. That can happen when you invite the entire email list of 30+ people. We were now nine, and we descended down to the Jct. After a short break, we divided into two teams. Five took saws and started dragging many blowdown tree trunks from the woods to barricade a herd path just back uphill. Four stabilized the junction sign.
Most junction signs on trails we adopt have 4x4 posts with routed and painted signs on them. They stand on a layer of stones on the ground, to improve drainage and for a longer useful life. They have 2x4s across the bottom of them like on a hatrack, the ends rest on larger stones, and even larger stones sit on the 2x4s and the stones below to brace the post and pin the structure down. Such rockpiles are called cairns, from Scottish Gaelic carn.
About 30 years ago, we used spruce posts, and most of them are still in use. Eventually the bottom of them in the cairn rots, but the cairns still holds the post. We use PT posts since ~ 2000, but this was an older one.
The post team took apart the cairn and sawed the rotten part from off the post. They then brought short 4x4s of PT from a stash nearby and cut them to length and lagged them to either side of the post. Placing the post on the layer of stones again, they placed 2x4s of PT across the new pieces and lagged them there. They then upended the assembly so as to spray primer-and-paint from a rattle can on all the cut ends of wood. When the signpost was once again cairned around, we hope it is all good for another decade or more.
Meantime, the barricading team was making the entire herd path vanish under piles of old tree trunks, leaving the original ~ 1912 hiking trail clear. Joined by the others for more brushing and barricading, they closed off three herd paths that were eroding fast. We helped the hikers to follow the open path by blazing it with about a dozen of the same white rectangles required by the State Parks there since 1997. These are temporary plastic blazes cut from milk jugs, held to the tree by a 1.5" electroplated roofing nail nailed only 1" into the tree so it can be salvaged by the next blazing team. Tourists follow blazes to stay on trails, so more are needed on trails they frequent; better than eroded trails or lost tourists.
We'd yet to use the rock bars we brought, but near the top of this section there was an opportunity. Two goodly rocks left by the latest glacier made hiking awkward on a ledge. Four Cardigan Highlanders and fifteen minutes turned them into a fine flight of 400-lb steps to help hikers up that ledge. Over two dozen tourists had to wait a few minutes.
At the top of the ledge, our work was done. We walked over to the white ledges and marveled at the colors and the view on this warm sunny afternoon. We passed around a box of Scottish energy bars (Walker's, of Aberlour in Strathspey), two departed to hike down the mountain, and we lugged tools back to the summit, with time to admire the west view into Vermont. Another chairlift ride back down the mountain, awarding a tartan to one who'd just worked his third day with us, and we parted friends to return to our other lives. A truly fun and productive crew day on the hill, moran taing gu leor, many thanks to all.
Craig Sanborn, CHVTC Trailmaster
Photos by Scott MacFaden & George G.