Friends of Mount Sunapee releases a new film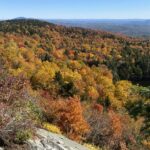 The Friends of Mount Sunapee has announced the release of a new film focused on Mount Sunapee's Old Growth Forest. The film, The Forgotten Forest Primeval Re-Discovering Mount Sunapee's Old Growth, highlights the rare, exemplary forest on Mount Sunapee as well as the early history of its protection as Forest Society's first reservation in 1911. The 35 minute film can be viewed on YouTube at https://youtu.be/beytGX2dORI.
"Since we (the Highlanders) adopt trails in this ancient forest, I thought you might enjoy learning a bit more about it. Some of the trails we tend are thought to be cut by SPNHF soon after they bought the land from the logger in 1911."
Craig Sanborn, CHVTC Trailmaster
The Friends of Mount Sunapee is a grassroots organization that advocates for the protection of Mount Sunapee State Park. For more information on the group, visit their website at https://www.friendsofmountsunapee.org/.