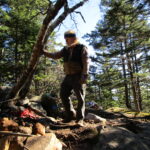 Well there, trail crew,
Almanac for this June says 5.36" of rain. Our habit of raking drains in November, and cleaning them again in Spring, means that all this rain eroded our trails very little, if at all. The team on upper Andrew Brook Trail on Sunday June 18 dug three more, for 100 on Sunapee, 75 on Cardigan, 24 on Cole Pond, and ~60 on Kearsarge. We raked 90% of them this Spring. We have removed 25 blowdowns too.
Now we can expect somewhat drier weather to begin the building season. We still must dodge downpours, but hopefully less often than 2 or 3 times a day.
This crew has always tried to be flexible and accommodate volunteers' available time. Please remember that we often do workdays by appointment, especially weekdays.
Below please find some weekends, with jobs listed below them. Of course, to paraphrase Robert Burns, the best-laid plans of mice and trail crews often go awry. Mother Nature, crew availability, and random chance will be the final arbiter.
July 1-4. Independence Day, nothing scheduled, a few hours possible.
July 8-9 open
July 13-17. Monadnock Trails Week (MTW). Register with SPNHF as well as here. They are at forestsociety.org.
July 22-23. Third Saturday. Job to be chosen from list below.
July 29-30 and later, Jobs from list below.
WORK LIST as of now. Please note that repairing damage and stabilizing existing trails needs to be a higher priority than new construction.
South Ridge Trail \ top drain, rock steps. barricade herdpaths. one zigzag to lessen steep grade.
Rollins Trail, a few more ditches.
Winslow Trail, rock steps, waterbars, revetting. Brush spruce in alpine zone.
Rim Trail, rock steps, brushing.
West Ridge Trail, / trailhead, barricade, r&r steps. / Cliff's Bridge, rock steps in stair, more rock steps / 1986 bog relo.
Mowglis, Skyland, Newbury west: no drains, but patrol & brush.
Please check the Upcoming Projects page For final dates and details of work trips. Thank you.
Respectfully submitted,
Craig Sanborn, CHVTC Trailmaster