Cardigan Mtn. Limited Access July 17- Aug. 31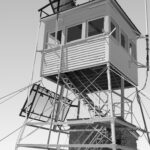 The N.H. Department of Natural & Cultural Resources has released the following press statement concerning work on the Cardigan summit fire tower.
Cardigan Mtn. trail and summit access to be limited periodically by fire tower replacement project July 17- Aug. 31
The N.H. Division of Forests and Lands is cautioning hikers who wish to visit Cardigan Mountain that a project to replace the fire tower cab will periodically limit access to the summit and to some trails from July 17 through August 31. Additionally, there will be no access to the fire tower during this period of time.
"Throughout the project, a helicopter will be used to fly in materials for the new tower," said Chief Steve Sherman of the N.H. Forest Protection Bureau. "While many trails on Cardigan Mountain will remain available for hiking, it's important that the public does not summit on days when the helicopter is in use, both for their own safety and for the safety of the crew."
Updates about the project, including notices of non-summitting days and trail closures, will be posted on the websites of both the Division of Forests and Lands and the N.H. Department of Natural and Cultural Resources, as well as on their respective Twitter accounts, @nhdfl and @nhdncr.
The Division of Forests and Lands operates 15 fire towers across the state. The first tower, at Croydon Peak, was built in 1903. They continue to be an integral part of wildfire detection statewide.
The Cardigan Mountain project is estimated to be completed by October. A second fire tower cab replacement, at Belknap Mountain, will begin later this summer.
New Hampshire's Division of Forests and Lands is part of the Department of Natural and Cultural Resources. NHDFL's mission is to protect and promote the values provided by trees, forests and natural communities. This mission is accomplished through responsible management of the state's forested resources; by providing forest resource information and education to the public; and through the protection of these resources for the continuing benefit of the state's citizens, visitors, and forest industry. Learn more at nh.gov/nhdfl.
Source: https://www.dncr.nh.gov/news-and-media/cardigan-mtn-trail-and-summit-access-be-limited-periodically-fire-tower-replacement